Blog
The Blog of Toledo Lucas County Public Library
A Blue Christmas: Dealing With Sadness During the Holidays
Posted 12/10/19 by Amy H
The Thanksgiving, Christmas and Hanukah seasons are often associated with joy, love, generosity and unity. But for some people, this time of year magnifies loneliness, anxiety, grief and despair. Often while many people cheerfully (or even just neutrally) move through holiday traditions and gatherings, those who are hurting often feel even more lost, abandoned and alone than ever. There are resources that can help. Here are just a few....
Licensed marriage and family therapist Morton walks readers through the most common questions about mental health and the process of getting help – from finding the best therapist to navigating harmful and toxic relationships and everything in between. In the same down-to-earth, friendly tone that makes her YouTube videos so popular, Morton clarifies and destigmatizes the struggles so many of us go through and encourages readers to reach out for help.
With original research and plenty of encouragement, Brown explores the psychology of releasing our definitions of an "imperfect" life and embracing living authentically. In a world where insults, criticisms and fears are spread too generously alongside messages of unrealistic beauty, attainment and expectation, we look for ways to "dig deep" and find truth and gratitude in our lives, embracing imperfection and living wholeheartedly.
Four uniquely qualified experts explain why our usual attempts to "think" our way out of a bad mood or just "snap out of it" lead us deeper into the downward spiral. Through insightful lessons drawn from both Eastern meditative traditions and cognitive therapy, they demonstrate how to sidestep the mental habits that lead to despair, including rumination and self-blame, so you can face life's challenges with greater resilience.
A day of indulgence at home on the couch might help us unwind and feel temporarily renewed, but is that all there is to self-care? In this book, Tracey Cleantis shows why real self-care is more than just routine self-indulgence —it's a lifelong practice that's essential to one's well-being. Tracey invites you to consider self-care across your relationships, finances, spiritual and professional life —and more. By accepting who we are, what we need, and how those needs evolve over time, we create space for self-care's transformational healing in our lives.
This book is for people who suffer from loneliness, the kind that cannot be solved by simply being around other people. Their aloneness is a deeply embedded pattern that is both negative and painful. It is often fueled by trauma, loss, addiction, grief and a lack of self-esteem and insecurity. Teal identifies the three pillars or qualities of loneliness: Separation, Shame, and Fear, and goes on to share a series of exercises where practitioners learn to face their fears, eventually reaching a place of unconditional love and acceptance.
Often at the holidays there a million shades of fear, anxiety, anger and the addictions that grow out of them. How can you navigate these and find your way to peace? Acclaimed teacher and award-winning author Dean Sluyter shows how to use simple meditative techniques and subtle tweaks of body, mind and breath to open your life to deep, relaxed confidence. Drawing on ancient enlightenment teachings as well as contemporary research, he lays out practical, easy-to-follow steps to help overcome the emotions and habits that stop us from enjoying life.
This is a collection of Christian devotions meant to address sadness at the holidays, reminding us that all of our Christmases, even the darkest ones, can be filled with honesty and hope through one's faith in God.
No matter your goals, Atomic Habits offers a proven framework for improving--every day. James Clear, one of the world's leading experts on habit formation, reveals practical strategies that will teach you exactly how to form good habits, break bad ones, and master the tiny behaviors that lead to remarkable results. If you're having trouble changing your habits, the problem isn't you, it's your system. Bad habits repeat themselves again and again not because you don't want to change, but because you have the wrong system for change. You do not rise to the level of your goals. You fall to the level of your systems. Here, you'll get a proven system that can take you to new heights.

Borges gathers over 200 tips, activities, and stories (from experts and everyday people alike) into an A-to-Z list, from asking for help and burning negative thoughts to the importance of touch and catching some Zzz's. Make any day a little more OK with new skills in your self-care toolkit-and energy to show up for yourself.
Offers life lessons grounded in the simple act of slowing down, observing what is around us, and being present in our lives moment by moment. The benefits of mindfulness are well recognized: greater peace of mind, less stress, and the opportunity to work through and transform thoughts, memories, and worries. It also fosters equanimity, helping us accept the changes and challenges life brings. "A Walk in the Wood" is both inspiring and instructive. Discover along with Pooh that mindfully exploring and experiencing the simple joys of nature is an ideal path for working on your own habits, attitudes, and emotions, while cultivating more meaningful relationships with others.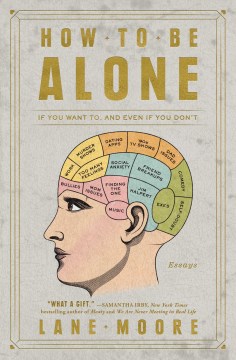 With an intoxicating blend of dark wit and determined positivity, Lane sheds light on an often-stigmatized condition and reveals how she harnessed and drew strength from her loneliness to become the creative powerhouse she is today. This is a great book for anyone who wants to feel less alone and a little more connected through reading the words of someone who has been there and found insight in her struggles.
OTHER ITEMS YOU MAY ENJOY